Welcome to Koala-T Coin Laundry FREE Dry laundromat Milwaukee WI! If you are sick and tired of spending a ton of time and a small fortune on getting your clothes clean, we can definitely help. With our extra large capacity washers and dryers and our free dry with every wash policy, we are confident you will get your laundry done faster and for less money than what you are paying now…even if you currently do your laundry at home. We are proud to say we are the #1 rated, most affordable FREE Dry laundromat in Milwaukee Wisconsin.
Click on the map to the right or the "Get Directions NOW" link below to visit us and start saving money today!
FREE Dry Laundromat Milwaukee WI – 414-207-6656
Welcome to Koala-T Coin Laundry, the undisputed best FREE Dry laundromat Milwaukee WI has to offer! If you are tired of feeling like you are spending an eternity and a fortune doing laundry, then you are in the right place. Our coin laundry laundromat in Milwaukee can help you save time and money!
Did you know that the average household does at least one load of laundry per day? When you're doing laundry for a family of four or five, we know it can stack up fast! Seven loads per week can take up a lot of time and use up a lot of water, electric and gas! Before you know it, you can easily burn up hours upon hours of time and quietly siphon loads and loads of your hard earned dollars from your bank account. Thankfully you have options like using nearby laundromats in Milwaukee like ours where you can use multiple high capacity machines and do all of your laundry at once.
Great reasons to visit Koala-T Coin Laundry Milwaukee, TODAY!
UNLIMITED FREE DRYING WITH EVERY WASH
SAVE TIME AND MONEY
EXTRA LARGE CAPACITY WASHERS AND DRYERS
Safe Location
Comfortable Air Conditioned Climate Controlled Environment
Clean Bright and Well Lit
Open Early With Extended Nighttime Hours 7 Days a Week
Comfortable Seating
Televisions
Snack & Drink Vending Machines
Drop Off Wash and Fold Laundry Services
Over the past three decades and without sacrificing quality, we have perfected the art of keeping the overhead low in our laundromats in Milwaukee and other surrounding areas. Through many years of trial and error, we have discovered and developed a number of ways to keep our costs at a bare minimum. This is great news for you because maintaining low costs has allowed us to pass those savings along to our customers in the form of a completely FREE Dry laundromat. At our laundry mat, we are proud to offer you a money saving free dry with every wash!
Milwaukee Laundromats – Discover the Difference
Milwaukee laundromats may be a dime-a-dozen, but they're not always the same. If you are on the Internet searching for terms like "24 hour laundromat Milwaukee WI", "laundry service Milwaukee WI" or "laundry Milwaukee WI", you want to make sure you're not only finding the closest laundromat, but also the safest and least expensive. Convenience, safety and affordability, that's what you get with Koala-T Coin Laundry! Stop having to pay to dry your laundry! Use several of our extra large washers to do your entire mountain of laundry in the same amount of time it takes you to do one or two regular loads and then dry for free on the house. Imagine the time and money you will be able to save when you can do all of your laundry in less than a quarter of the time it normally takes you to do it at home. At our Milwaukee laundromat, we have several extra large capacity washers and dryers offering you the convenience of bringing in massive amounts of laundry to wash and dry all at the same time, simultaneously! Our huge machines can even accommodate the biggest of blankets and comforters without a problem. Your only worry will be how to fold your cloths fast enough. You can visit our laundry tips page to learn how to wash and fold all of your laundry fast and efficiently.
As we mentioned earlier, most households do about an average of one load of laundry per day and that load typically takes them just over an hour to complete everything. That's about 8 hours per week of doing laundry! What if you could do your laundry in just a quarter of that time? With our over-sized machines, you can get that same amount of laundry done in less than two hours. That gives you 6 hours of your life back per week. That's an astounding 24 hours per month! Save a day the Koala-T way!
As you might know, convenience and affordability are not the only important factors when it comes to looking for Milwaukee laundromats. Safety and comfort are always of utmost importance to us and to you. Koala-T Coin Laundry in Milwaukee prides itself on providing you with a secure, friendly, clean, and relaxing environment. We want you to feel at home so we go to great extents to make sure our facility is safe, clean, well lit and very comfortable. We always have friendly knowledgeable staff on hand to make sure our facility is well maintained and that you have the best experience possible. We do not tolerate any misconduct or misbehavior so you can be assured your time with us is as safe and pleasant as possible.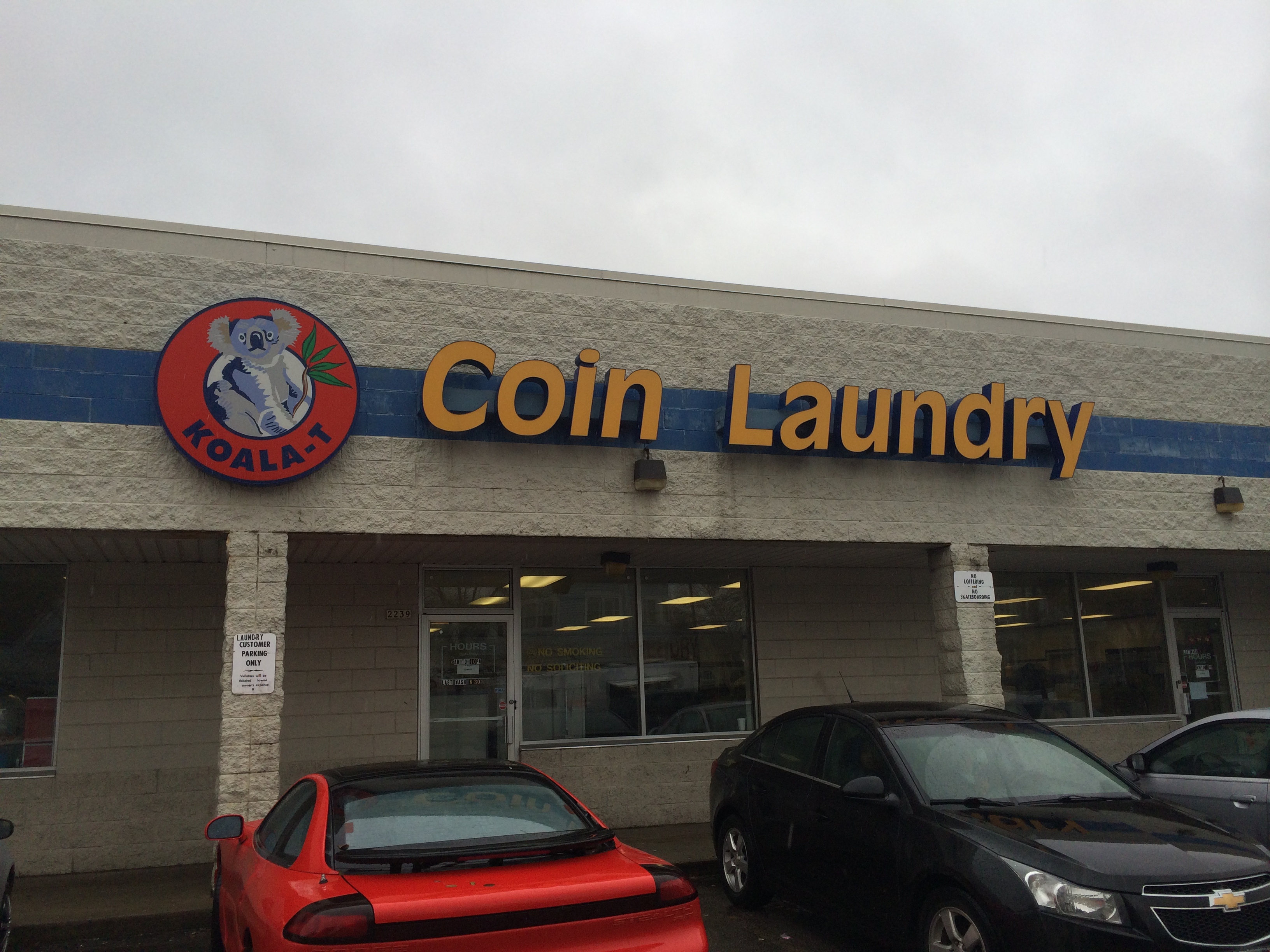 Don't Just Settle for any Nearby Laundromat in Milwaukee WI?
If you are using your phone searching for laundry mat terms like "laundromat near me in Milwaukee WI" and "find a laundromat Milwaukee WI" or you're just looking to find a nearby laundromat in Milwaukee WI, look no further. Use our interactive map on this page to quickly get directions and come visit us today! Although we are not a 24 hour laundromat, we do open very early and have very late hours. We are open from 6 am until 11 pm every day of the week. This schedule will accommodate most of the people, most of the time and still allow us to keep out cost at a minimum so we can continue to serve you better with the least expensive coin laundry in Milwaukee WI.
Drop Off Laundry Service Milwaukee WI
Last but not least, if you are wondering if we have a wash dry fold laundry drop off service, the answer is yes! We do have a drop off laundry service in Milwaukee and our staff is experienced and known for getting your laundry done right the first time. We specialize in getting the stains out and keeping your whites white. If you are pressed for time or simply don't like doing laundry yourself, we are your solution. Come in to our wash dry fold laundry service and let us do the dirty work and heavy lifting for you at a very reasonable cost. Come save time and money at our Milwaukee laundry mat TODAY!
Koala-T Coin Laundry | Milwaukee Laundromat & Laundry Drop Off Service
55
14